Birth Month Flower of May - The Lily of the Valley

To order dial (800) 266-0452 in the US, 00-1-225-927-1062 outside the US 24/7. Help hours are 8:30 AM - 4:30 PM CT Monday - Friday, 9:00 AM - 12:30 PM CT Saturday.
Birth Month Flower of May - The Lily of the Valley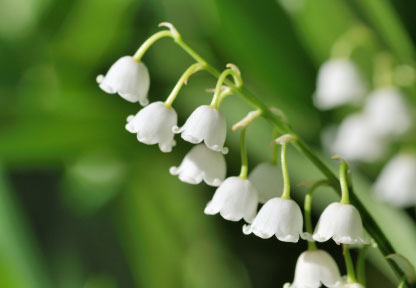 The Lily of the Valley differs from the Easter lily that might be pictured when hearing this flower's name. The Lily of the Valley is actually signified by its large, basil shaped leaves with pretty clusters of white bell shaped blooms drooping towards the earth like falling tears. It is thought that this flower has some medicinal benefits like enhancing memory, or improving speech; however, all parts of this flower are poisonous and could create great illness or paralysis when ingested. As the good luck birth month flower of May, the Lily of the Valley signifies a return to happiness marked by a legend of a nightingale that does not return until May when the flower blooms.
My Account
Returning customers, log in here
to use your address book account.
Forgot your password?
Forgot your login?
New user? Just place your order and an address book account will be created automatically.