Birth Month Flower of February - The Iris

To order dial (800) 266-0452 in the US, 00-1-225-927-1062 outside the US 24/7. Help hours are 8:30 AM - 4:30 PM CT Monday - Friday, 9:00 AM - 12:30 PM CT Saturday.
Birth Month Flower of February - The Iris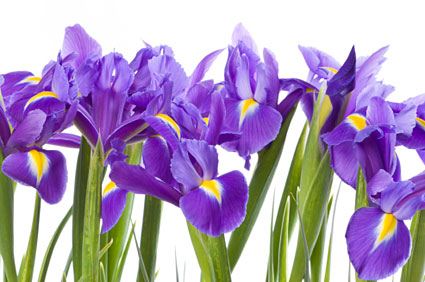 The Iris is named after Iris, the Greek goddess of rainbows who also acted as a messenger to the gods in Homer's The Iliad, and it has long been used as a symbol of royalty. People often think the Fleur de Lis symbol is a stylized version of a lily, because the word "lis" in french means lily, but many scholars believe that the Iris is the inspiration for the Fleur de Lis symbol. The Iris also has many practical purposes. It's roots have a long history of use in herbal medicine, and native Americans used the fibers from the outer edges of the leaves to make strong ropes and fishing nets. Irises come in a wide variety of beautiful colors, but the ones most commonly used in floral arrangements come in Blues, Purples, Yellows and whites.