Same Day Flowers in the USA and Canada
We offer same day flower delivery when you order by 1 PM local time Monday through Friday and 11 AM on Saturday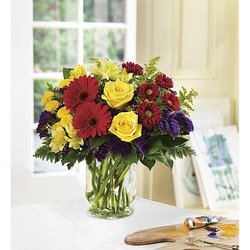 Order by the stated time in the recipient's time zone and send a gift of same day flowers today! We specialize in same day flower delivery of professionally designed flowers by local florists. At 1st in Flowers we offer ...


... same day flowers Monday through Saturday. So if it's a rush order you need you've come to the right place. Same day flowers make the perfect last minute gift and we offer same day delivery of flowers both in North America and to most popular international destinations. The great news for our customers is we don't charge anything extra to deliver your flowers the same day you submit your order. It's just part of the 1st in Flowers commitment to excellence.


What Our Customers Are Saying:
* Great Service!!!!!!!!!


* The flowers were delivered professionally and on time. We had a problem with availability of the recipient, however customer service contacted me and we solved that issue. Staff not only complied with my request, but also gave an advice how to make it better. I really happy that I've chosen '1st in flowers'.


* Very efficient and delivers on time. I will continue to use their services. I am not in the USA to give my loved ones this personal service, and 1st in flowers gives me satisfaction that my loved ones get a smile with their flower delivery.


Order by Phone 24 / 7:

USA: 1-800-266-0452


Outside USA:

00-1-225-927-1062
Help Hours:
8 AM - 5 PM CT Monday-Friday
9 AM - 1 PM CT Saturday
Comments or suggestions?

click here to email us: