Pink Flowers in the USA and Canada
We offer same day flower delivery when you order by 1:00 PM local time Monday through Friday and 11 AM on Saturday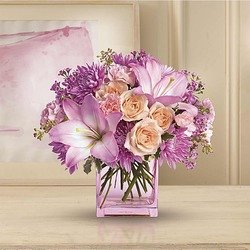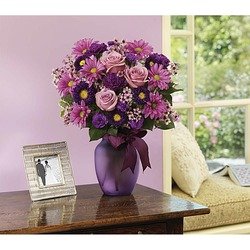 Pink is one of the most common colors of flowers in the world and actually gets its name from flowering plants called pinks. Pink flowers get their color from naturally occurring pigments called anthocyanins. The meaning ...


... of the color pink is unconditional love and nurturing, grace and elegance, romance, feminine, charming and tenderness, innocence, playfulness and sensitivity, to name just a few of the feelings and emotions pink flowers elicit. Many people think pink flowers are more romantic than red flowers because their color is not as intense as a deep red and therefore have more delicate and gentle connotations when it comes to romance and love. Our exquisite collection of pink flowers include pink roses, pink carnations, pink lilies, pink snapdragons and pink chrysanthemums.


What Our Customers Are Saying:
* I have been sending flowers using 1st in Flowers for nearly the last 8 years from my home in N. Ireland to my sister in Milwaukee (Portland) OR, and have never been let down or disappointed with the service. 1st in Flowers is aptly named because it is 1st in Class!!


* Enjoyed the clarity of information provided and the choices available.


* The flowers were beautiful I will certainly use you again to send flowers to the states, thank you so much.


Order by Phone 24 / 7:

USA: 1-800-266-0452


Outside USA:

00-1-225-927-1062
Help Hours:
8 AM - 5 PM CT Monday-Friday
9 AM - 1 PM CT Saturday
Comments or suggestions?

click here to email us: