Tropical Flowers in the USA and Canada
We offer same day flower delivery when you order by 1 PM local time Monday through Friday and 11 AM on Saturday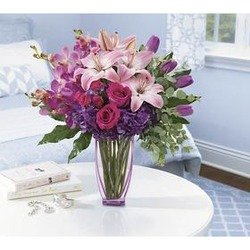 Tropical Flowers are those species of flowers that are native to the tropics and that flourish naturally in tropical climatic conditions. Tropical flowers and plants and known for their exquisite beauty and many are quite ...


... fragrant. In the temperate and polar regions tropical flowers are known as exotic flowers. Not only are tropical flowers known for their magnificence and beautiful exotic colors and shapes, they are long-lasting and sturdy.


What Our Customers Are Saying:
* The recipient of the flowers was thrilled. She thought they were beautiful. Great job!!


* I have tried many different sites and find that I always come back to 1st in Flowers. Great service and no worries. They also do not hide fees from you. Nothing makes a person shopping on the net angrier than going through all the screens to purchase and at the end, have to pay a $20 service fee. Love 1st in Flowers!


* It was a pleasure working with 1st. in flowers - you had a good selection and made it very easy. I had problems with other sites for an international order. Thank you.


Order by Phone 24 / 7:

USA: 1-800-266-0452


Outside USA:

00-1-225-927-1062
Help Hours:
8 AM - 5 PM CT Monday-Friday
9 AM - 1 PM CT Saturday
Comments or suggestions?

click here to email us: