Origins of the Christmas Tree
Origins of the Christmas Tree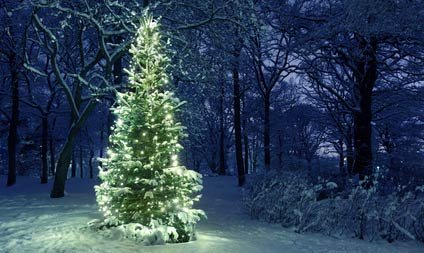 Saint Boniface:
There are several different versions of how Saint Boniface, an English Monk who converted many German people to the Christian faith in the eighth century, affected the origins of the Christmas tree. One story tells how he chopped down an oak tree to prove to pagans that it was not sacred, and a fir tree sprang up from the roots of the felled tree. A similar version of this story maintains that the oak tree knocked down everything in it's path except a fir sapling when it was chopped down. Both versions end with Saint Boniface calling the fir "the tree of the Christ Child." It is also said that Saint Boniface used triangular shape of evergreen trees to demonstrate the divine hierarchy of God and his people.
Martin Luther:
It is thought that Martin Luther first introduced the Christmas tree in Germany in the sixteenth century. Legend has it, while walking through the forest on a snowy eve Martin Luther stumbled upon a beauteous sight, a tremendous evergreen illuminated by its frosted needles in the moonlight. He cut down that tree and brought it home as an attempt to recreate that sight for his family. To show how the tree was glowing in the moonlight, he lit candles and hung them from its boughs.
The Paradise Tree:
During the Middle Ages in Europe, plays telling the story of Adam and Eve often used a fir tree decorated with apples to represent the tree of life and the tree of knowledge of good and evil. Eventually people began using these trees to decorate the churches and some homes during the annual feast of Adam and Eve on December 24th.
Decorations:
Candies, berries and nuts once decorated the German Tannenbaum, or Christmas tree. Early ornaments were decorative balls filled with candies or nuts. From America came the stringing of popcorn as a traditional decoration streaming from the green fir branches of the Christmas tree. Today, beautiful glass ornaments, children hand crafted ornaments made at school, garland, tinsel and motion lights decorate fir trees in many homes during Christmas time, and gifts wrapped in colorful papers and bows lay under the Christmas tree waiting to be opened on Christmas day. Regardless of what events actually made decorating a tree for Christmas an annual affair, it will hold strong as a seasonal tradition for many more generations to come.