Christmas does not have to be all red and green, or poinsettias and holly. Flower varieties and colors are endless. This holiday, choose flowers that complement the style of your home.
Flowers for an Elegant Home

If you pride yourself on your elegant home, make sure that the floral arrangements you choose enhance your home's sophistication. Try roses, gladiolus and calla lilies in white and embellish with silver or try a red and matte gold theme. Create that wow factor with a tall arrangement of gladiolus or calla lilies arranged loosely in a crystal vase. Place the arrangement in a high traffic area of your home so that it will not be missed. For an elegant centerpiece, try an eye level arrangement of all one flower, like beautiful roses, cut to the same height. Add some Christmas flare with evergreen or mistletoe.
Flowers for a Modern Home

Decorations in a modern home tend to be minimalistic giving you the perfect slate to be daring with your flowers. Choose bold, exotic flowers like anthuriums, birds of paradise, calla lilies and orchids. Display your arrangements in a frosted glass, pewter or stainless steel container to keep that modern edge. Play with color like blue and silver or mix things up with orange and lime green or hot pink and teal. Add drama by pairing large blooms like peonies, sunflowers or hydrangeas with smaller blooms or throw in dramatic textures like belles of Ireland, evergreen branches or wax flower with softer blooms.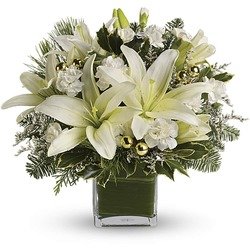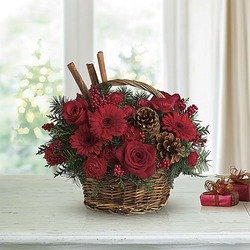 Flowers for a Country Home

When you've gone country, simple flowers like daisies, carnations, alstroemeria and chrysanthemums will add to your home's charm. Whether you go with a mix of colors or the traditional Christmas red and green, dress up your arrangements with pine cones or holiday ornaments and display in a pretty vase or pitcher. Plants arranged in a decorative holiday basket also express country style. Try using a wreath as a centerpiece and fill the center with candles, ornaments, yummy Christmas candy or glittery pine cones.
Flowers for a Romantic/Victorian Home

Let fragrance and rich hues enhance the sensuality of your romantic home. Choose fragrant flowers like roses, peonies, lilacs in lavish shades of purple and burgundy and display in a crystal, white or silver container. Adorn with strung cranberries or jewel toned beads for extra flare.
Regardless of the style, flowers will keep your home fresh and vibrant throughout the holidays. Christmas trees and poinsettias may be the most popular plants during the holidays, but they don't have to be the only plants spreading Christmas cheer. Flowers will help enhance your mood and keep you energized throughout the holidays. Have a wonderful holiday!