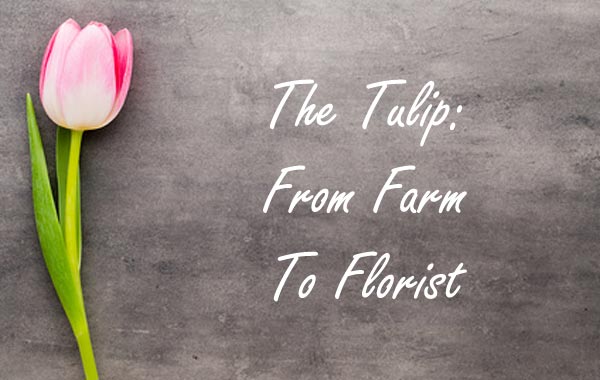 Have you ever wondered where the flowers in your flower arrangement came from?




Although the tulip is originally from Central Asia, the ideal growing conditions in the Netherlands make them the biggest producer of tulips in the world. 2 Billion tulip bulbs were exported from the Netherlands in 2014.




More than 60% of the land in the Netherlands is used for agriculture, with a significant portion of that dedicated to growing tulips.



With over 3000 varieties of Tulips, they come in practically every color of the rainbow.



Munster Flowers is a tulip farm in the Netherlands. They grow a wide variety of tulips and many of them get exported to greenhouses and wholesalers in other countries who then grow and distribute them to your local florist.



What a beautiful field of tulips! Surely these are getting cut for some beautiful floral arrangements. Actually, these "field tulips" are grown and then cut every year for 2-3 years to strengthen the tulip and create larger bulbs.



Once they are large enough, the harvested bulbs are exported from the Netherlands to growers in your country who then grow and distribute them down the chain to your local florist.



While many varieties of flowers are cut, sold and shipped directly to your local florist, tulips are first sent to local growers in the form of mature bulbs. Here they are grown in greenhouses before being sent to your local florist and used in your arrangements.



Tulips stay in the greenhouse for 3-7 weeks and are harvested when the bud has only a hint of color. They are then transferred to a cooling cell to stop their development until they are put back in warm temperatures and can flower.



Once they have matured enough, the tulips are cut, graded by their lengths, and packaged into bunches.



These bunches are then sold to wholesalers and your local florist for use in the beautiful arrangements you send and receive every day.



Now the tulips are ready for florists to use and turn them into...

The beautiful tulip arrangements you love to send and receive.
Thank you for reading our article. If this has inspired you to send someone tulips,
click here
to view our tulip selections and receive an Instant Savings of $5. If you don't need to send flowers today but would like to save on sending them in the future,
sign up for our monthly newsletter
to receive discount offers and get access to informative articles like this one.
The slideshow above shows you the typical journey tulips take to get from flower farms to the flower arrangements you send and receive. Just move your mouse over the picture (or tap on mobile) to access controls to play and pause or go forward and back.
The information and many of the pictures for this article were taken at
Munster Flowers
in the Netherlands. Not only do they grow tulips, but they also offer tulip excursions allowing you to tour their tulip farm. Additional information comes from the
Amsterdam Tulip Museum
.
If you liked this article be sure to
sign up for our monthly newsletter
. You'll get access to articles like this one and discounts for when you need to send flowers.