Birthday Flowers
Get Well
Funeral Flowers
Spring Flowers
Wine Baskets
Flower Delivery to:
---
Translate this page: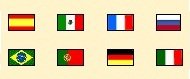 Testimonials
* Fantastically easy and answers all my prayers in a short time. Thanks a million.


* Overall, very satisfied.


* Great selection of flowers, covering a vast range of catergories, from birth, to anniversary to seasonal.Easy website to navigate and great on time service delivery!


Contact Us:
(800) 266-0452
service@1stinflowers.com
---
Outside of the USA call:
00-1-225-927-1062


The word for flowers is:
flores in Spanish
fleurs in French
blumen in German
bloemen in Dutch
kukkien in Finnish
virágokat in Hungarian
fiori in Italian
blomster in Norway
kwiaty in Polish
flores in Portuguese
blommor in Swedish
kvetiny in Czech

Same Day Flower Delivery in the USA and Canada

| | | |
| --- | --- | --- |
| |     You can send flowers today to Parkland, Florida for a birthday or anniversary from a local florist if you order by 12 noon in the recipient's time zone, Monday - Friday (11 am on Saturdays). We have roses, blue flowers, red flowers, yellow flowers and green plants and other goodies for your friends in Parkland.           | |
Parkland map online
Parkland, FL weather online
---
Flowers to other places near Parkland
Dania Beach, FL, Delray Beach, FL, Federal Way, WA, Fife, WA, Greenacres, FL, Hillsboro Beach, FL, Puyallup, WA, SeaTac, WA, Sunrise, FL, University Place, WA
Send flowers to other places in Florida
Bradenton, FL, Fort Myers, FL, Maitland, FL, North Palm Beach, FL, Pompano Beach, FL, Port St. Lucie, FL, Punta Gorda, FL, Redington Shores, FL, Tallahassee, FL, West Palm Beach, FL
Flowers and gifts to major cities in U.S.A.
Albany, NY, Battle Creek, MI, Denison, TX, Enid, OK, Longmont, CO, Napa, CA, Pittsfield, MA, South Bend, IN, Steubenville, OH, Winston-Salem, NC
---
Birthday Ribbon Bouquet
It's like a surprise party delivered in a bouquet of birthday blossoms! The surprise is the bright ribbons that line the inside of the acrylic vase – behind an invisible panel. The bouquet, well, that's simply a beautiful way to wish someone the best on their birthday.
Wonderful Wishes Bouquet
Send greetings for any occasion with our gaily colored bouquet. Bright orange Gerbera daisies and purple mini carnations are only slightly subdued by golden alstroemeria and solidago. Arranged in a clear glass cube, each flower delivers a warm and wonderful birthday wish.
Rubber Plant
Whether at the office or in their home, our rubber plant, will be an everlasting reminder of your thoughtfulness.
Basket of Faith
This classic basket of traditional Carnations, Asters, Daisies and Gladiolus displays an abiding faith to all who attend the service.
We also have flower delivery to the following area zip codes:
33004, 33024, 33026, 33062, 33067, 33073, 33076, 33311, 33313, 33314, 33319, 33321, 33322, 33323, 33325, 33326, 33327, 33328, 33329, 33330, 33331, 33332, 33345, 33351, 33413, 33415, 33427, 33428, 33429, 33431, 33432, 33433, 33434, 33444, 33445, 33446, 33448, 33454, 33463, 33464, 33467, 33481, 33482, 33483, 33484, 33486, 33487, 33488, 33496, 33497, 33498, 33499, 98001, 98003, 98023, 98063, 98093, 98148, 98158, 98168, 98188, 98198, 98354, 98371, 98372, 98373, 98374, 98375, 98424, 98464, 98466