Birthday Flowers
Get Well
Funeral Flowers
Spring Flowers
Wine Baskets
Location:
---
Translate this page: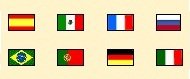 Testimonials
* The person I sent the flowers to was thrilled with the quality of the flowers. This is true!


* Very pleased to find exactly what I wanted, country-type flowers rather than a formal boquet or arrangement, and the recipient was very happy with the flowers and the contianer - they reminded her of her wedding flowers.


* I've used 1st in Flowers several times and found them to be highly efficient - and when you are ordering from ten thousand kilometres away, that's a great comfort.


Contact Us:
(800) 266-0452
service@1stinflowers.com
---
Outside of the USA call:

00-1-225-927-1062

Customers have found us searching in Spanish for flores, floreria, floristeria in French for fleurs, fleuriste, livraison fleurs and in German for blumen, blumenladen, blumenversand
| | | |
| --- | --- | --- |
| |     You can send flowers today to Grapevine, Texas for a birthday or anniversary from a local florist if you order by 12 noon in the recipient's time zone, Monday - Friday (11 am on Saturdays). We have roses, blue flowers, red flowers, yellow flowers and green plants and other goodies for your friends in Grapevine.           | |
Grapevine map online
Grapevine, TX weather online
Local Businesses in Grapevine
---
Send flowers to other cities near Grapevine
Addison, TX, Bedford, TX, Crowley, TX, Duncanville, TX, Farmers Branch, TX, Frisco, TX, Grand Prairie, TX, Highland Park, TX, Highland Village, TX, Hurst, TX
Order flowers to other places in Texas
Austin, TX, College Station, TX, El Paso, TX, Fort Bliss, TX, Henderson, TX, Itasca, TX, Kountze, TX, Mission, TX, Texas A & M, TX, Woodville, TX
Flower delivery to major cities in U.S.A.
Eugene, OR, Everett, WA, Fargo-Moorhead, ND, Grand Rapids, MI, Jersey City, NJ, Lebanon, PA, Lubbock, TX, Pittsfield, MA, Santa Fe, NM, Terre Haute, IN
---
Possibly Pink
Impossibly pretty. This decidedly feminine arrangement is absolutely delightful.
Teleflora's Be Happy Bouquet
There are probably a million reasons this is such a popular bouquet. Of course, there are probably just as many reasons to send this cheerful arrangement. Full of happy flowers, this ceramic happy face mug will bring smiles for years to come. Especially when filled with that first cup of morning coffee or cocoa!
Ivy Pole Plant
The Ivy Pole Plant is an elegant addition to any room.
Schefflera Plant
Nothing livens up a room like the lush dark green leaves of the schefflera plant. The schefflera is an excellent choice to put in your home or office.
We also have flower delivery to the following area zip codes:
75001, 75033, 75034, 75035, 75050, 75051, 75052, 75053, 75054, 75077, 75116, 75137, 75138, 75205, 75209, 75219, 75234, 75244, 76001, 76002, 76003, 76004, 76005, 76006, 76007, 76010, 76011, 76012, 76013, 76014, 76015, 76016, 76017, 76018, 76019, 76021, 76022, 76036, 76051, 76053, 76054, 76092, 76094, 76095, 76096, 76099, 76101, 76102, 76103, 76104, 76105, 76106, 76107, 76108, 76109, 76110, 76111, 76112, 76113, 76114, 76115, 76116, 76117, 76118, 76119, 76120, 76121, 76122, 76123, 76124, 76126, 76127, 76129, 76130, 76131, 76132, 76133, 76134, 76135, 76136, 76137, 76140, 76147, 76148, 76150, 76155, 76161, 76162, 76163, 76164, 76166, 76177, 76179, 76180, 76181, 76182, 76185, 76191, 76192, 76193, 76195, 76196, 76197, 76198, 76199, 76201, 76202, 76203, 76204, 76205, 76206, 76207, 76208, 76209, 76210