- Send Flowers to Austria -

send birthday flower arrangements to Austria
or many other flower selections to Austria. We also have several arrangements suitable for funerals or to show sympathy. We use local florists to send flowers to over 150 countries worldwide.

Find Austria on a map
Austria Weather Online!
---
Flower Favourites
A charming and steady footed bouquet of red roses, pink Gerberas and white daisies presented confidently by large, multi-toned leaves.
Barcelona
Barcelona sends the message of both class and panache. Hues of purple and burgundy along with a dynamic composition of large tropical leaves!
One Dozen Red Roses Arranged in Vase
Send one dozen beautiful roses arranged in a vase.
Funeral Spray
Send your condolences with a beautiful funeral spray.
---
Share this page with a mobile phone using your QR Code app!

Austria
---
Translate this page: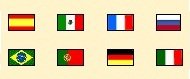 ---
Testimonials
* very convenient. I can even do it from my i-phone.
* have used 1st in flowers for a few years and will continue to do so. friends and family i send them to are always impressed with the quality of anything they receive. i would like to thank all at 1st in flowers for all their help in the past and for the future.
* Enjoyed the clarity of information provided and the choices available.
Contact Us:

(800) 266-0452

service@1stinflowers.com
---
Outside of the USA call:

00-1-225-927-1062

Customers have found us searching in Spanish for flores, floreria, floristeria in French for fleurs, fleuriste, livraison fleurs and in German for blumen, blumenladen, blumenversand
---