Singapore Flower Delivery
Your order can be delivered to Singapore in one business day if you order by 10:00 AM Eastern time Monday through Saturday.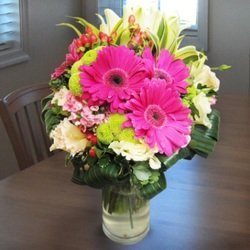 Currency Helper
U.S.
Singapore
$ 1 Dollar
=
$ 1.35 Dollars
$ 50 Dollars
=
$ 67.45 Dollars
Singapore
U.S.
$ 1 Dollar
=
$ 0.74 Dollars
$ 70 Dollars
=
$ 51.89 Dollars
Sources
What Our Customers Are Saying:
* I had a problem with my initial delivery date and needed to make an alteration to ensure that my partner received her flowers. Your response time was excellent and the staff was exceptionally helpful.


* My daughter said that the flowers were beautiful and arrived in time for her grand opening. I appreciated the extra care in the phone call regarding the look of the finished product and that it would not look like the picture and my options. Generally speaking I usually get whatever the florist decides when I order flowers so this was refreshing. I have told numerous people already about the phone call because it was so outside of the norm and how satisfied and happy I was with the service.


* Once again excellent service, on time, no hassle. That's why I continue to use them.


Order by Phone 24 / 7:

USA: 1-800-266-0452


Outside USA:

00-1-225-927-1062
Help Hours:
8 AM - 5 PM CT Monday-Friday
9 AM - 1 PM CT Saturday
Comments or suggestions?

click here to email us: