One Dozen Red Roses Wrapped in Paper
One Dozen Red Roses Wrapped in Paper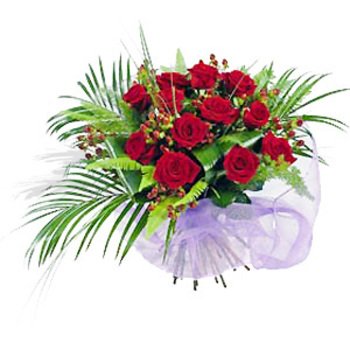 Send someone a lovely bouquet of one dozen roses.
Order online now to take advantage of our low service fee, or place your order by phone at (800) 266-0452 (outside the U.S. (225) 927-1062). A

$18.95 service fee

?

will be added to the price of the arrangement when ordering online. The service fee added to the price of the arrangement is $22.90 when ordering by phone.


This item can be delivered the same day if your order is placed before 8:00 AM in United Kingdom Tuesday - Friday. Monday delivery must be requested before 11:00 am Saturday, and Saturday deliveries must be ordered before 3:00 pm US Eastern time on Friday..
Currency Helper
U.S.
U.K.
$ 1 Dollar
=
£ 0.77 Pounds
$ 50 Dollars
=
£ 38.53 Pounds
U.K.
U.S.
£ 1 Pound
=
$ 1.30 Dollars
£ 40 Pounds
=
$ 51.91 Dollars
Sources
What Our Customers Are Saying:
* I have got a very good feedback regarding the flowers. Those who received the flowers were deeply moved. It was far beyond our expectation. The customer service was excellent.BR :-)Fred


* Well I am a united states soldier stationed in south Korea and I just want to say thank you because I don't get to see my beautiful woman or my family but with this I can now send her flowers to let her know even though I'm busy I'm always thinking of her so thank you


* First rate choices, first rate quality, fantastic service.


Order by Phone 24 / 7:

USA: 1-800-266-0452


Outside USA:

00-1-225-927-1062
Help Hours:
8 AM - 5 PM CT Monday-Friday
9 AM - 1 PM CT Saturday
Comments or suggestions?

click here to email us: