Hand-tied Bouquet (Vase Not Included)
Hand-tied Bouquet (Vase Not Included)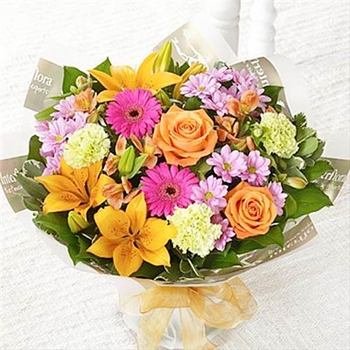 Enlarge Image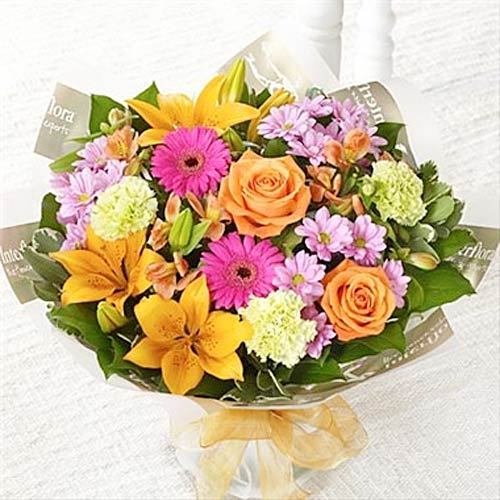 Pick a day - any day - to tell someone how special they are to you (Vase Not Included)
Order online now to take advantage of our low service fee, or place your order by phone at (800) 266-0452 (outside the U.S. (225) 927-1062). A

$19.95 service fee

?

will be added to the price of the arrangement when ordering online. The service fee added to the price of the arrangement is $23.90 when ordering by phone.


This item can be delivered the same day if your order is placed before 8:00 AM in United Kingdom Tuesday - Friday. Monday delivery must be requested before 11:00 am Saturday, and Saturday deliveries must be ordered before 3:00 pm US Eastern time on Friday..
Currency Helper
U.S.
U.K.
$ 1 Dollar
=
£ 0.79 Pounds
$ 50 Dollars
=
£ 39.52 Pounds
U.K.
U.S.
£ 1 Pound
=
$ 1.27 Dollars
£ 40 Pounds
=
$ 50.61 Dollars
Sources
What Our Customers Are Saying:
* I have used first in flowers many time and have always been happy with the service and quality.


* I have been using 1st in flowers for over 5 years, and I have always been extremely happy with the products, that's why I only shop for flowers on this site. Excellent service and delivery, and the product advertised is the product that is delivered. I strongly recommend anyone wanting to send flowers use this site.


* I began ordering flower arrangements from "1stinflowers" 3 years ago, and I couldn't be more pleased. All the recipients tell me they have never received such beautiful put together arrangements as well as "how fresh" they were. I have recommended you to all my friends and they all use 1stinflowers.


Order by Phone 24 / 7:

USA: 1-800-266-0452


Outside USA:

00-1-225-927-1062
Help Hours:
8 AM - 5 PM CT Monday-Friday
9 AM - 1 PM CT Saturday
Comments or suggestions?

click here to email us: