White Rose funeral bouquet
White Rose funeral bouquet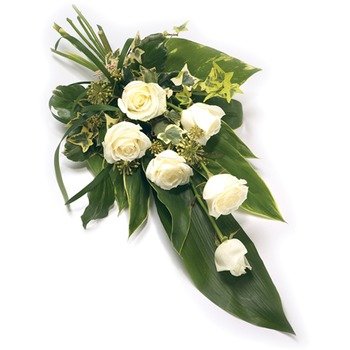 | | | | | |
| --- | --- | --- | --- | --- |
| | | (Shown) | | |
| $ 63.95 | | $ 86.95 | | $ 115.95 |
Send this lovely funeral bouquet with white roses and seasonal greenery as a symbol of your love and sympathy.
Order online now to take advantage of our low service fee, or place your order by phone at (800) 266-0452 (outside the U.S. (225) 927-1062). A

$19.95 service fee

?

will be added to the price of the arrangement when ordering online. The service fee added to the price of the arrangement is $23.90 when ordering by phone.


This item can be delivered the same day if your order is placed before 9:00 AM in Austria Tuesday - Friday. Monday delivery must be requested before 11:00 am Saturday, and Saturday deliveries must be ordered before 3:00 pm US Eastern time on Friday..
Currency Helper
U.S.
E.U.
$ 1 Dollar
=
0.89 Euros
$ 50 Dollars
=
44.45 Euros
E.U.
U.S.
1 Euro
=
$ 1.12 Dollars
50 Euros
=
$ 56.25 Dollars
Sources
What Our Customers Are Saying:
* Nice site, good and helpful customer service personnel


* As I am ordering from outside the United States it was a pleasure to find a site as easy to use as 1st in Flowers. An enjoyable experience.


* I've made several purchases over several years and have been 100% satisfied each time.


Order by Phone 24 / 7:

USA: 1-800-266-0452


Outside USA:

00-1-225-927-1062
Help Hours:
8 AM - 5 PM CT Monday-Friday
9 AM - 1 PM CT Saturday
Comments or suggestions?

click here to email us: