Birthday Flowers
Get Well
Funeral Flowers
Spring Flowers
New Baby Flowers
Flower Delivery to:
---
Translate this page: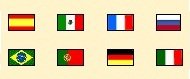 Testimonials
* Thxx sooo much you guys are reliable and as far The Best


* Nice site, good and helpful customer service personell


* We love 1st in Flowers - tried another company because they were giving money 'back' to a charity and had a miserable experience. With 1st in Flowers, we never have to wonder, our order gets there right on time, and people always love it!


Contact Us:
(800) 266-0452
service@1stinflowers.com
---
Outside of the USA call:
00-1-225-927-1062


The word for flowers is:
flores in Spanish
fleurs in French
blumen in German
bloemen in Dutch
kukkien in Finnish
virágokat in Hungarian
fiori in Italian
blomster in Norway
kwiaty in Polish
flores in Portuguese
blommor in Swedish
kvetiny in Czech

Same Day Flower Delivery in the USA and Canada

| | | |
| --- | --- | --- |
| |     Flowers and flower delivery in New Bloomfield, PA. We have birthday flower arrangements, anniversary roses, blue flowers, red flowers, yellow flowers and birthday cakes for your friends in New Bloomfield. We also have sympathy and funeral arrangements and sprays in New Bloomfield, PA.           | |
New Bloomfield map online
New Bloomfield, PA weather online
---
Send flowers to other cities near New Bloomfield
Boiling Springs, PA, Camp Hill, PA, Duncannon, PA, Enola, PA, Halifax, PA, Harrisburg, PA, Mechanicsburg, PA, Mifflintown, PA, Millersburg, PA, Richfield, PA
Send flowers to other places in Pennsylvania
Altoona, PA, Elizabethtown, PA, Honey Brook, PA, Johnstown, PA, Monroeville, PA, New Cumberland, PA, Northern Cambria, PA, Pittsburgh, PA, South Williamsport, PA, Woodside, PA
Flowers and gifts to major cities in U.S.A.
Albuquerque, NM, Boulder, CO, Eugene, OR, Fort Lauderdale, FL, Hagerstown, MD, Indianapolis, IN, Knoxville, TN, Porterville, CA, Spokane, WA, Troy, NY
---
Sunny Birthday Present
You can send sunshine even if it's a cloudy day. After all, everybody deserves sunny skies on their birthday! This pretty present delivers an abundance of brightness and birthday wishes.
Sunsplash
Send this summery bouquet and you'll make a splendid splash! Perfect for birthdays, thank yous, barbecues and beyond. This warm-weather charmer will be welcome everywhere!
Pink Notion Vase
Pure, long lasting enjoyment in a simple glass vase of carnations and mixed foliages. The perfect little treasure to show someone you care.
Gentle Thoughts Spray
The pink and white Carnations, Roses and Chrysanthemums of this lovely spray will express your deepest sympathy ever so gently to all in attendance.
We also have flower delivery to the following area zip codes:
17001, 17007, 17011, 17012, 17013, 17015, 17020, 17025, 17032, 17043, 17050, 17055, 17059, 17061, 17068, 17086, 17089, 17101, 17102, 17103, 17104, 17105, 17106, 17107, 17108, 17109, 17110, 17111, 17112, 17113, 17120, 17121, 17122, 17123, 17124, 17125, 17126, 17127, 17128, 17129, 17130, 17140, 17177