Birthday Flowers
Get Well
Funeral Flowers
Spring Flowers
New Baby Flowers
Send Flowers to:
---
Translate this page: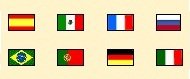 Testimonials
* Thank you once again for beautiful flowers and timely delivery


* I liked the selection they had for our specific order. I did several searches on the internet to look for gift baskets for children from local florists in Arizona. !st in Flowers had a much bigger selection to choose from and I liked that you could add on to the balloon order (i.e. we added a bear and candy). I felt their prices were very fair.


* I like the wide range of prices and the price for same day & next day delivery you can't beat the price.


Contact Us:
(800) 266-0452
service@1stinflowers.com
---
Outside of the USA call:
00-1-225-927-1062


The word for flowers is:
flores in Spanish
fleurs in French
blumen in German
bloemen in Dutch
kukkien in Finnish
virágokat in Hungarian
fiori in Italian
blomster in Norway
kwiaty in Polish
flores in Portuguese
blommor in Swedish
kvetiny in Czech

Same Day Flower Delivery in the USA and Canada

| | | |
| --- | --- | --- |
| |     If you need to send flowers to Menomonee Falls, WI or anywhere else, we have a wide selection of birthday flowers for Menomonee Falls, incredible selections of gift baskets and cakes, and we can send anniversary flowers to Menomonee Falls, Wisconsin or get well flowers in Menomonee Falls and sympathy flowers in Menomonee Falls, WI.            | |
Menomonee Falls map online
Menomonee Falls, WI weather online
Local Businesses in Menomonee Falls
---
Flower delivery to other cities near Menomonee Falls
Bayside, WI, Brookfield, WI, Franklin, WI, Greenfield, WI, Hartland, WI, Mequon, WI, Pewaukee, WI, Waukesha, WI, Wauwatosa, WI, West Allis, WI
Send flowers to other places in Wisconsin
Appleton, WI, Beaver Dam, WI, Chippewa Falls, WI, Denmark, WI, Eau Claire, WI, Fall River, WI, Jefferson, WI, Kenosha, WI, Manitowoc Rapids, WI, Marinette, WI
Flower delivery to major cities in U.S.A.
Cape May, NJ, Jersey City, NJ, Lakeland, FL, Monroe, LA, Port St. Lucie, FL, Saginaw, MI, San Angelo, TX, Tampa, FL, Waterloo, IA, Wichita Falls, TX
---
Sunny Birthday Present
You can send sunshine even if it's a cloudy day. After all, everybody deserves sunny skies on their birthday! This pretty present delivers an abundance of brightness and birthday wishes.
Basket of Fresh Fruit
Send a basket packed with a mouth-watering array of seasonal fruits and chocolates. Appropriate for any occasion and sure to be a welcome gift.
Fragrance Vase
Surprise someone with a dose of refreshing happiness - in this quaint vase of lightly fragrant flowers.
White Promises Spray
This traditional spray, filled with white carnations, chrysanthemums and gladioli, makes the promise that love is eternal.
We also have flower delivery to the following area zip codes:
53005, 53008, 53029, 53045, 53051, 53052, 53072, 53092, 53097, 53132, 53146, 53151, 53186, 53187, 53188, 53189, 53201, 53202, 53203, 53204, 53205, 53206, 53207, 53208, 53209, 53210, 53211, 53212, 53213, 53214, 53215, 53216, 53217, 53218, 53219, 53220, 53221, 53222, 53223, 53224, 53225, 53226, 53227, 53228, 53233, 53234, 53235, 53237, 53259, 53263, 53267, 53268, 53274, 53278, 53288, 53290, 53293