Birthday Flowers
Get Well
Funeral Flowers
Spring Flowers
Gift Baskets
Location:
---
Translate this page: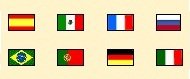 Testimonials
* I liked the comparison to other services. Additionally the discount & low service fee are appealing.


* sending flowers internatioally was quick easy and fun with this site


* This is my second order with 1st in Flowers - the service is great. If you need something sent in a hurry - Use 1st in Flowers fast!


Contact Us:
(800) 266-0452
service@1stinflowers.com
---
Outside of the USA call:
00-1-225-927-1062


The word for flowers is:
flores in Spanish
fleurs in French
blumen in German
bloemen in Dutch
kukkien in Finnish
virágokat in Hungarian
fiori in Italian
blomster in Norway
kwiaty in Polish
flores in Portuguese
blommor in Swedish
kvetiny in Czech

Same Day Flower Delivery in the USA and Canada

| | | |
| --- | --- | --- |
| |     You can send flowers today to Lake Odessa, Michigan for a birthday or anniversary from a local florist if you order by 12 noon in the recipient's time zone, Monday - Friday (11 am on Saturdays). We have roses, blue flowers, red flowers, yellow flowers and green plants and other goodies for your friends in Lake Odessa.           | |
Lake Odessa map online
Lake Odessa, MI weather online
---
Flower delivery to other cities near Lake Odessa
Caledonia, MI, Galesburg, MI, Gull Lake, MI, Hastings, MI, Hudsonville, MI, Lansing, MI, Lowell, MI, Nashville, MI, Plainwell, MI, Portland, MI
Order flowers to other places in Michigan
Ada, MI, Benton Harbor, MI, Bloomfield Hills, MI, Detroit, MI, Flint, MI, Holland, MI, Lambertville, MI, Michigan Center, MI, Saginaw, MI, Stockbridge, MI
Flower delivery to major cities in U.S.A.
Bellingham, WA, Bristol, CT, Daytona Beach, FL, Eau Claire, WI, High Point, NC, Indianapolis, IN, Jersey City, NJ, Ocala, FL, Wheeling, WV, Yolo, CA
---
Personalized Birthday Cake - Balloon Theme
A delicious two layer cake with a buttercream filling and icing, and your choice of cake flavor. Decorated with piped icing and a personalized edible icing message in a balloon theme, this cake tastes as wonderful as it looks! It is available in white, yellow and chocolate flavor and includes a set of 3 candles representing the Past, Present and Future for the Birthday Boy or Girl.
Sunny Smiles
What better gift to send someone than a sunny smile? Think how much that sentiment delivered in the form of this beautiful and cheerful bouquet will mean to whoever's on your mind today.
Summer Blush Arrangement
Make them blush with this lovely arrangement of Mini Gerbera Daisies, Snapdragons, Galax and Eucalyptus.
White Promises Spray
This traditional spray, filled with white carnations, chrysanthemums and gladioli, makes the promise that love is eternal.
We also have flower delivery to the following area zip codes:
48846, 48849, 48875, 48901, 48906, 48908, 48909, 48910, 48911, 48912, 48913, 48915, 48916, 48917, 48918, 48919, 48922, 48924, 48929, 48930, 48933, 48937, 48951, 48956, 48980, 49046, 49053, 49058, 49073, 49078, 49080, 49316, 49321, 49331, 49333