Birthday Flowers
Get Well
Funeral Flowers
Spring Flowers
New Baby Flowers
Location:
---
Translate this page: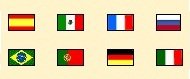 Testimonials
* amazing efficient cost effective service


* Thank you for the great service.


* Had a great experience with my first order at Easter and now they came through again for Mother's day in Italy. It's all about customer service and meeting expectations... 1st in Flowers has done it again for me. Thanks again.


Contact Us:
(800) 266-0452
service@1stinflowers.com
---
Outside of the USA call:
00-1-225-927-1062


The word for flowers is:
flores in Spanish
fleurs in French
blumen in German
bloemen in Dutch
kukkien in Finnish
virágokat in Hungarian
fiori in Italian
blomster in Norway
kwiaty in Polish
flores in Portuguese
blommor in Swedish
kvetiny in Czech

Same Day Flower Delivery in the USA and Canada

| | | |
| --- | --- | --- |
| |     You can send flowers today to Cedarburg, Wisconsin for a birthday or anniversary from a local florist if you order by 12 noon in the recipient's time zone, Monday - Friday (11 am on Saturdays). We have roses, blue flowers, red flowers, yellow flowers and green plants and other goodies for your friends in Cedarburg.           | |
Cedarburg map online
Cedarburg, WI weather online
---
Flower delivery to other cities near Cedarburg
Fox Point, WI, Greenfield, WI, Milwaukee, WI, Oak Creek, WI, Oconomowoc, WI, Slinger, WI, Sussex, WI, Waukesha, WI, Wauwatosa, WI, West Bend, WI
Send flowers to other places in Wisconsin
Appleton, WI, Kenosha, WI, La Crosse, WI, Lomira, WI, Marinette, WI, Oconto Falls, WI, Peshtigo, WI, Pulaski, WI, Two Rivers, WI, Williams Bay, WI
Send flowers to major cities in U.S.A.
Anaheim, CA, Ashland, KY, Eugene, OR, Johnstown, PA, Millville, NJ, Portland, ME, Santa Cruz, CA, St. Paul, MN, Syracuse, NY, Watsonville, CA
---
Bear Hug
Send this adorable little keepsake bear with enchanting Roses, Carnations, Chrysanthemums and Asters, and someone special will think you're just as sweet as can be.
Gerbera Brights
Sending this bouquet just might be your brightest idea of the summer! Gerberas are so full of color, charisma and character, and this arrangement showcases their glory.
Fragrance Vase
Surprise someone with a dose of refreshing happiness - in this quaint vase of lightly fragrant flowers.
Basket of Light
This delicate wicker basket filled with beautiful white Carnations, Larkspur and Roses. will surely spread some light to those you're thinking of. Perfect for the service or the home.
We also have flower delivery to the following area zip codes:
53010, 53012, 53022, 53066, 53086, 53089, 53090, 53095, 53122, 53129, 53154, 53186, 53187, 53188, 53189, 53201, 53202, 53203, 53204, 53205, 53206, 53207, 53208, 53209, 53210, 53211, 53212, 53213, 53214, 53215, 53216, 53217, 53218, 53219, 53220, 53221, 53222, 53223, 53224, 53225, 53226, 53227, 53228, 53233, 53234, 53235, 53237, 53259, 53263, 53267, 53268, 53274, 53278, 53288, 53290, 53293