Birthday Flowers
Get Well
Funeral Flowers
Spring Flowers
Gift Baskets
Location:
---
Translate this page: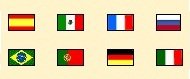 Testimonials
* The receipient of the flowers was thrilled. She thought they were beautiful. Great job!!


* Fantastically easy and answers all my prayers in a short time. Thanks a million.


* I liked the comparison to other services. Additionally the discount & low service fee are appealing.


Contact Us:
(800) 266-0452
service@1stinflowers.com
---
Outside of the USA call:
00-1-225-927-1062


The word for flowers is:
flores in Spanish
fleurs in French
blumen in German
bloemen in Dutch
kukkien in Finnish
virágokat in Hungarian
fiori in Italian
blomster in Norway
kwiaty in Polish
flores in Portuguese
blommor in Swedish
kvetiny in Czech

Same Day Flower Delivery in the USA and Canada

| | | |
| --- | --- | --- |
| |     You can send flowers today to Arcola, Illinois for a birthday or anniversary from a local florist if you order by 12 noon in the recipient's time zone, Monday - Friday (11 am on Saturdays). We have roses, blue flowers, red flowers, yellow flowers and green plants and other goodies for your friends in Arcola.           | |
Arcola map online
Arcola, IL weather online
---
Send flowers to other cities near Arcola
Arthur, IL, Charleston, IL, Lovington, IL, Mattoon, IL, Sullivan, IL, Tuscola, IL
Flower delivery to other cities in Illinois
Bradley, IL, Chicago, IL, Farina, IL, Granville, IL, Kankakee, IL, Normal, IL, Pekin, IL, Sauk Village, IL, Urbana, IL, Willowbrook, IL
Send flowers to major cities in U.S.A.
Boulder, CO, Chapel Hill, NC, Charleston, SC, Charleston, WV, Dubuque, IA, Goshen, IN, Minneapolis, MN, Naples, FL, Panama City, FL, Rogers, AR
---
Country Basket Blooms
Talk about a bountiful basket! This wicker basket is overflowing with beauty and blossoms. It's no wonder two pretty butterflies have made this basket their home.
Garden Parade
You'll want to put this colorful bouquet on your hit parade of gifts to send. Bold primary colors and a perfect mix of flowers make it great for men and women of all ages. In other words, it's a perfect arrangement.
Fragrance Vase
Surprise someone with a dose of refreshing happiness - in this quaint vase of lightly fragrant flowers.
Gentle Thoughts Spray
The pink and white Carnations, Roses and Chrysanthemums of this lovely spray will express your deepest sympathy ever so gently to all in attendance.
We also have flower delivery to the following area zip codes:
61910, 61911, 61920, 61937, 61938, 61951