Hot Anthurium
Order Now
| | | |
| --- | --- | --- |
| Low | Medium | Deluxe |
| $ 56.95 | $ 69.95 | $ 82.95 |
A pretty and charismatic tropical flower whose origin is the tropical regions of South America along with its more than 600 species cousins. While the "Boy Flower", as it may sometimes be referred to, grows in several colours, this red-orange variety really stands out!
| | | |
| --- | --- | --- |
| Low | Medium | Deluxe |
| $ 56.95 | $ 69.95 | $ 82.95 |
Order online now to take advantage of our low service fee, or place your order by phone at (800) 266-0452(outside the U.S. (225) 927-1062). A
$9.95 service fee
will be added to the price of the arrangement when ordering online. The service fee added to the price of the arrangement is $12.95 when ordering by phone.
This item can be delivered the same day if your order is placed before 10:15 AM in Austria Monday - Saturday.
Currency Helper
U.S.
E.U.
$ 1 Dollar
=
0.78 Euros
$ 50 Dollars
=
38.90 Euros
E.U.
U.S.
1 Euro
=
$ 1.29 Dollars
40 Euros
=
$ 51.41 Dollars
Sources
---
Share this page with a mobile phone using your QR Code app!

You are in:

Plants
for:
Austria
---
Translate this page: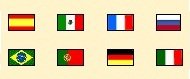 ---
Contact Us:

(800) 266-0452

service@1stinflowers.com
---
Outside of the USA call:

00-1-225-927-1062

---
Testimonials
* I have used 1st in Flowers before and have been very happy with the convenience and reported quality of the gift received.
* I am a U.S. soldier currently deployed to Iraq. 1st-in-Flowers is a great and simple way to show my wife, the mother of our five children, how much I appreciate her.
* have used 1st in flowers for a few years and will continue to do so. friends and family i send them to are always impressed with the quality of anything they receive. i would like to thank all at 1st in flowers for all their help in the past and for the future.